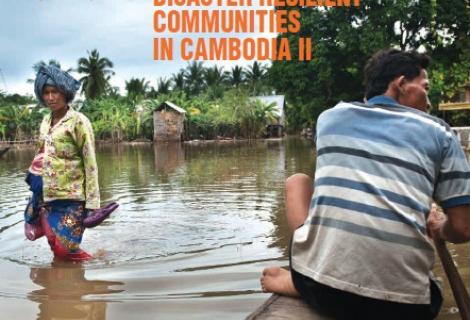 Bringing readiness to Cambodia: Project report
Downloads
About 80% of Cambodian territory lies within the Mekong basin, known to have large fluctuations of water levels between the dry and wet seasons. This causes an annual cycle of droughts and floods, damaging agricultural production and livelihoods and constraining development and poverty alleviation.
The 2014 World Risk Report puts Cambodia as the ninth most at risk country in the world.
While sub-national committees from the provincial to the district and commune levels are reasonably aware of flood and drought risks, they lack adequate human and financial capacity to support mitigation planning.
At the village level, there are pressing concerns about the loss of livelihoods and assets as a result of recurrent disasters; and there is strong community demand for the development and implementation of proper disaster plans.
Funded via the European Commission Humanitarian Aid and Civil Protection (ECHO) and coordinated by ActionAid, and in close cooperation with national and sub-national authorities, the consortium covered the following:
More than 450 village Hazard and Vulnerability Capacity Assessments (HVCAs) to better understand the issues faced at the grassroots;
More than 50 new Emergency Preparedness and Response Plans (EPRPs) for communes and schools; reviewing and strengthening existing plans in target areas;
More than 100 commune DRR plans;
Establishing or supporting nearly 150 women's saving for change groups;
Supporting DRR in selected communities focusing on mitigation activities such as:
Drought Resistant Agricultural Techniques (DRAT) eg. drip irrigation
Rice banks and small-scale canals
Safe sites for flood evacuation
Installation and training on 15 rain gauges and weather stations;
Scaling up mobile phone voice message-based Early Warning Systems across Pursat, Kampong Thom and Banteay Meanchey provinces, including setting up nearly 100 water gauge systems;
Developing age-appropriate curriculums for Grade 4, 5 and 6 on DRR in collaboration with MoEYS;
Developing teacher training module and training of core trainers to support DRR in schools;
Training of journalists and government spokespersons to report on DRR and emergencies;
Supporting development and implementation of the Cambodia Joint Action Group on DRR (JAG) advocacy strategy;
Raising awareness on national and international policy and legislation.>