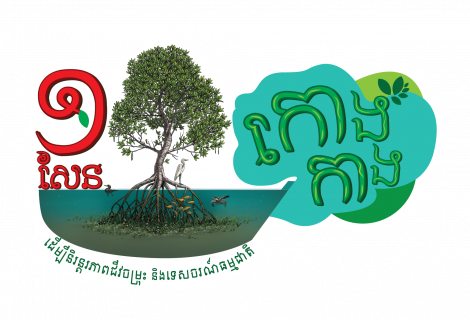 100,000 Mangroves Campaign
WHAT IS A 100,000 MANGROVES CAMPAIGN? It is a campaign to mobilise public to contribute and support mangroves nursery and planting of 100,000 mangroves at eight Community Fisheries in Kampot province from September to May 2020.
Downloads
The campaign's objectives:
To mobilise public to contribute and support eight Community Fisheries to nurse 100,000 mangrove plants, organise mangrove planting events, and other activities for their community development.       
To mobilise communities and public, especially young people in Kampot province, to participate in protection of mangrove forest.
To raise awareness among public on significant roles and values of mangrove and the importance of their participation in protection of coastal area which is ensuring food sovereignty for the Cambodian people and to maintain balance of ecologies and environment.
WHY THIS CAMPAIGN? AND WHY NOW?
Mangrove, coral reef and seagrass are the heart of the sea as they play significant role to maintain the balance of ecological system in Cambodia's coastal area by absorbing carbon dioxide (CO2), filtering pollutants, protecting the shorelines from flood and storm, protecting soil erosion, and providing habitat for and nursery ground for sea lives. Destruction of these natural resources will result in the loss of nursery and feeding ground, reduction in fish stock and other coastal resources and impact on human wellbeing.   
Coastal area of Cambodia used to have the largest seagrass bed in Southeast Asia. According to IUCN report in 2004, seagrass bed in Kampot was as large as 25,240 hectares; however, their report in 2014 showed a huge reduction of seagrass bed to only 8,435.80 hectares. This could be caused by some major factors including urban development, sand mining, clearing of mangrove forest, illegal fishing by big boats, land conversion of agriculture or aquaculture, and climate change.
Currently, according to 2018 report of the provincial department of fisheries, Kampot consists of 1,966 hectares of mangrove forest, and 953 hectares of coral reef. Each community fishery is collaborating with local authority and provincial department of fisheries to protect conservation areas for seagrass bed, coral reef and mangrove forest and working toward increasing biodiversity along coastal area in order to promote livelihoods of communities and to maintain the natural and green beauty of Cambodia's coastal area.
Through this campaign, we can join the communities, local authority and provincial department of fisheries to protect and increase seagrass, coral reef and mangrove forest to be as rich as what our country used to have in past.
THE CAMPAIGN ORGANISED BY
The campaign is co-organized by ActionAid Cambodia, CWDCC, SAMAKY, and eight community fisheries in Kampot, including Trapeang Sangke, Kampong Samaky, Trapeang Ropov, Prek Thnout, Kep Thmey, Toteung Tgnai, Koh Kreosna, and Lok, with collaboration with Fishery Administration Cantonment.
ActionAid Cambodia (AAC) works with partners (CWDCC and SAMAKY) to support community fisheries network in Kampot to promote their rights to land tenure security and food sovereignty and to strengthen community role in co-management of natural resources by protecting the fisheries community boundary, increasing ecological resources, diversifying the benefits of natural resources to improve and sustain people's livelihoods.
THE BENIFIS PEOPLE GET FROM THIS CAMPAIGN
Communities:
Fund raised from this campaign will be distributed to eight community fisheries in Kampot to support their community activities including mangrove plant nursery, organizing planting events and other activities contributing to support their community development.
Bio-ecological resources in the area will increase and livelihoods of the communities will improve, and the communities will gain more recognition and support from the government both at sub-national and national levels on their role in co-managing the natural resources. 
Each community will have the opportunity to present to a larger public to get to know their area and to support their local natural products as well as eco-tourism communities.
Participants:
Public feel proud for participating in planting and protecting mangrove forest.
Public can continue enjoying fresh air, seafood, and green beauty at the coastal area.
Public especially young people participated in mangrove plantation event will gain knowledge about mangrove and community fisheries management from fisheries experts.
YOU CAN SUPPORT THE CAMPAIGN THROUGH
Contribute/donate to support mangrove plantation. One mangrove is 4000 Riel or 1 USD. Public can contribute for one mangrove or more through the following method of payment:
ABA BANK
Account Name: ActionAid International Cambodia
Account Number: 001017317
SWIFT: ABAAKHPP
ACLEDA BANK
Account Name: ActionAid International Cambodia
Account Number: 0001-20-469426-1-6
SWIFT: ACLBKHPP
WING
Account Name: ActionAid International Cambodia
Account Number: 03092855
Or donate directly at ActionAid Cambodia office in Phnom Penh or CWDCC office in Kampot province.
Participate in mangrove planting when you visit Kampot province
Share this campaign information with your families, friends, or networks so they know how to take part to support the campaign.