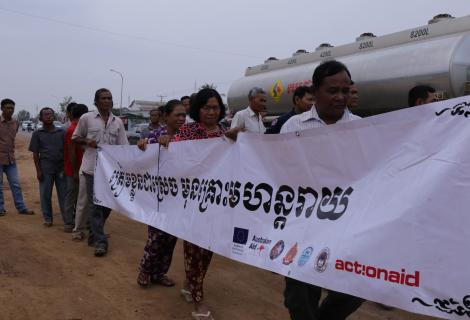 ActionAid Cambodia's Disaster Risk Reduction /Management, and Climate Change Adaptation activities in Cambodia
Because of its geographic location Cambodia is frequently experiencing disasters such as floods, droughts and strong winds. When the country is hit by disasters it pushes back many of the hard-won development gains and especially poor and marginalized people are plunged back into poverty.
In the past it was mainly floods that caused devastating disasters in Cambodia, but possibly as an effect of Climate Change and other man-made causes, drought has become an increasing natural hazard.
The 2017 Versic Maplecroft Climate Change Vulnerability Index[1] ranks Cambodia and most of the Southeast Asian region between "High and Extreme Risk".
Even though the 2018 World Risk Report still ranks Cambodia at 4th position amongst Asia's most at risk country, the country has improved by one rank compared to 2017. Worldwide Cambodia has improved from 8th to 12th rank over the last 4 years. This shows that positive change is possible.
Together with partners ActionAid Cambodia is working on Disaster Risk Reduction (DRR), Disaster Management (DM) and resilience building for more than a decade; For us it is important to work on various levels from village and "grassroots" levels to the national level, supporting the Cambodian government with capacity building and improving disaster management legislation. This has been a joint effort of the Joint Action Group (JAG) and the Humanitarian Response Forum (HRF) that comprises of 16 international organizations and UN agencies, co-chaired by ActionAid Cambois. All this successful work has become possible through the support of donors such as the European Commission Humanitarian Aid Operations Department (ECHO), the Swiss Agency for Development and Collaboration (SDC), the Australian Department for Foreign Affairs and Trade (DFAT), the United Nations Development Program (UNDP) and others.
What we do:
A special focus in our DRR work in Cambodia is put on increasing women's engagement and leadership in DRR/DM, and Climate Change Adaptation (CCA), through targeted capacity building, awareness raising and training, with the aim of moving women to the front row when it comes to DRR and CCA debate and decision making. Secondly, we are supporting Integrated Water Resources Management (IWRM) an drought monitoring in Cambodia to be prepared for the predicted effects of Climate Change that are already felt in Cambodia.
High importance is paid to "demand creation" and linking "grass-roots" level groups to the relevant authorities on provincial and national levels who have the power to address the most pressing needs identified by these groups.  
Currently ActionAid Cambodia implements 3 DRR / CCA projects:
1.      "Disaster Resilience and Water Management (DRAW)". The project is funded by SDC with two main Objectives:
[1] https://reliefweb.int/report/world/climate-change-vulnerability-index-2…
Improved access for at-risk populations in Cambodia to floods and drought early warning information and dissemination systems.
Improved capacity of Cambodian institutions to more effectively manage surface and groundwater resources for better advance planning and support to vulnerable populations.
Activities include piloting an automated Groundwater Level Monitoring System, improving coordination structures between Cambodian institutions, developing 4 provincial watershed management strategies, capacity building on DRR concepts to local authorities and communities, and the further roll out of a mobile phone based flood early warning system (EWS 1294) which is implemented by our consortium partner People in Need (PIN) Cambodia.
2.      "Enhancing Gender Equality in DRR in Cambodia (EGED)". The project is funded by UNDP.
The project will:
Improve women's capacity in Disaster Management (DM) and Climate Change Adaptation (CCA) Actions
Increase women's voices and demands on Disaster Risk Reduction (DRR) and CCA issues
Develop a Cambodia Women's Resilience Index 2019 for Cambodia (Cambodia WRI 2019)
Activities include capacity building courses for women such as Community Based DRR (CBDRR) including a structured Hazard Vulnerability and Capacity Assessment (HVCA) process to identify DRR needs and mitigation measures, preparing women's DRR/DM action plans and inclusion of DRR measures into the Commune Investment Plans (CDP).
In addition, the project will establish the "Women's Resilience Index" for Cambodia; The Women's Resilience Index methodology was piloted by ActionAid Bangladesh and will be adapted to the Cambodian context.
3.       "Gender Responsive Alternatives to Climate Change (GRACC I&II)". These projects are funded by DFAT through ActionAid Australia. GRACC I has just been concluded and GRACC II has started in July 2019 for a period of 36 months.
The project builds on ActionAid's successful "Women DRR Champion approach" that promotes and trains highly motivated grassroots and local government women, to connect with each other on local, national and international levels, to jointly drive women's DRR and CCA agenda. E.g. under GRACC I ActionAid gave an opportunity to 4 women DRR champions to share their challenges and good practices during the Global Platform for DRR in Geneva in May 2019.
GRACC II will further expand and strengthen these networks, linking them to similar network      
Conclusion:
DRR/DM and resilience building in Cambodia has come a long way and successes become apparent. However, there are still existing and upcoming challenges ahead that need to be tackled jointly between all partners. ActionAid Cambodia remains committed to DRR and CCA to support most vulnerable populations at risk and help them overcome poverty.