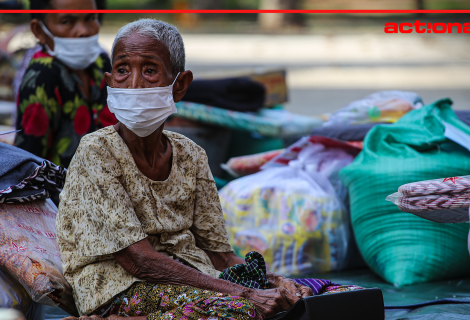 ActionAid Cambodia Distributed the Food and Non-Food Items to Covid-19 Affected Population
Mother Shows Concern Toward Children's Education During Covid-19
Downloads
"Because of the Covid-19 crisis, Covid-19, I have no income to pay for debt and to provide food for my family. I can't do much speaking of my disability", said Saroeun.
Chhang Saroeun is a farmer living with disability in Srah Keo village, Odar Meanchey province. He has obtained the emergency aid as his family has suffered from the job losses and the debt to a bank, while they were not able to make income.
In responding to impact of Covid-19 pandemic on vulnerable Cambodian population, ActionAid Cambodia (AAC) supported its partner, Community Transformation Organization (CTO), to deliver
emergency food and non-food assistance to 100 families in Odar Meanchey province on June 16-17.
Saroeun said, "The aid is responding to my family's current need. I think the food might last for a month."
AAC and CTO worked with health and local authorities to identify the beneficiaries targeting families living in poverty and those who have lost their job/ income as the result of Covid-19 crisis.
AAC and CTO followed strictly Covid-19 safety guideline for the response team and
participating beneficiaries, as well as the Sphere Minimum Standard when accessing and distributing the aid, including ensuring proportionality of aid to beneficiaries' family members. The participating beneficiaries also received awareness messages for Covid-19 prevention and hygiene practices from local health authority.