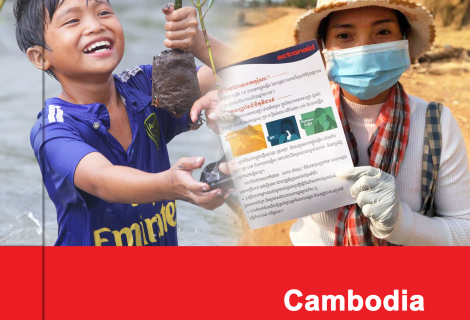 ActionAid Cambodia Annual Report 2020
Downloads
The year 2020 was an unexpected year due to the global pandemic of COVID19 and climate-related disasters which doubled the pressure on Cambodia's economic and social development in addition to the ongoing climate-related events and disasters. Internally, ActionAid Cambodia had also gone through a leadership transition when I took a new position as the Country Director in April 2020. Despite these challenges, we have achieved remarkable and tangible results:
We launched two flagship projects funded by the European Commission to promote tenure security of community fisheries in coastal provinces and to promote youth participation and gender responsiveness of public services. We concluded our joint 100,000 Mangrove Campaign with partners and eight Community Fisheries in Kampot and planted more than 111,000 mangrove trees. We built a brand-new school in Koh Kong province, which benefited not only 105 primary school children but also their fellow generation. We conducted research jointly with our peer BBC Media Action on the Impact of COVID-19 on Informal Workers in the Informal Sector to find out the left-behind workers amid COVID-19. We promoted women's leadership in disaster risk reduction and climate change adaptation through research on Cambodia's Woman Resilience Index and empowering 46 Woman Champions in DRR/CCA, including supporting them to engage in Covid-19 response and awareness-raising at their localities, reaching 58,744 people in 204 villages. We assisted 19,658 people, including 220 workers in the informal sector, through food and non-food item distribution during the Covid19 outbreak.
COVID19 has changed our way of working. It has limited our community outreach and capacity building to natural resource defenders, school children and teachers, local authority, and local NGO partners. We adopted a well remote working arrangement within the Organisation and with our partners, but it has been the greatest challenge to reach people in need.We learned that local capacity is the key to resilience and change. Community-based management groups, women champions, youth volunteers, teachers, and local authorities are the key driving forces for resilience. We learnt that investing in women would create greater impacts, not just on empowering women themselves but also on strengthening family and community resilience. We also learned that such empowerment requires simultaneous efforts to empower communitybased agents and local authority personnel and their solidarity. We see increasing challenges in achieving the Cambodia Sustainable Development Goals and just developing toward Cambodia's Vision 2030 and 2050. The Government should do more just redistribution of financial resources to the local level and people whose rights were abused or disrupted. May 2021 brings more solidarity between the Royal Government of Cambodia, civil society Organisations, community-based Organisations, community-based agents and rights defenders, and private-sector groups to fight against the COVID19 pandemic and increasing economic, social and environmental challenges. ActionAid Cambodia continues our commitment and actions to strengthen people's capacity and active agency, especially women and those living in poverty and exclusion, to assert their rights. We continue joining hands with the Royal Government of Cambodia and sub-national and local authority to bring about sustainable development of Cambodia.