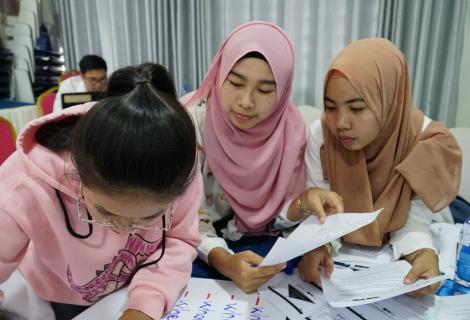 ActionAid Cambodia Newsletter 2021
Building Youth's Capacity for Gender Responsive Public Service Delivery
Downloads
Since the late of 2020, ActionAid Cambodia and our partner Transparency International Cambodia, in collaboration with other local NGO partners, organized series of a training on "Online News Writing and Mobile Video Production" and "Youth participation in promoting Gender Responsive Public Service" to numbers of youth from different backgrounds in five target areas in Cambodia.
These two main activities are part of the Greater Young Women Empowerment in Decision Making and Accountable Public Service Delivery Project with financial support from the European Union in Cambodia and the Embassy of Sweden in Phnom Penh (SIDA). The project aims at creating an enabling environment and empowering youth, particularly young women, in Cambodia to effectively participate in decision-making processes to improve public service delivery, particularly gender-responsiveness, through innovative technology platforms and to engage in policy dialogue with key decision-makers and service delivery entities at local and national levels.
Attending the training course, Miss Heang Mina, a trainee from Kampong Thom province, said, "I am very interested because it is my first time to join this training. I gain more knowledge and understanding after the course."
She added, "In the future, I will introduce [this knowledge and understanding] to others to understand these as I do."
Although the training was short, Mr Rem Veasna, a trainee from Oddar Meanchey province, believed that it taught and shared a lot of knowledge.
He stated that he gained knowledge about the press, identifying true or false information, understanding journalists' values or ethics, and knowledge of video producing and editing.
Please see selected articles and videos produced by youth groups, at Thmey Thmey's website.