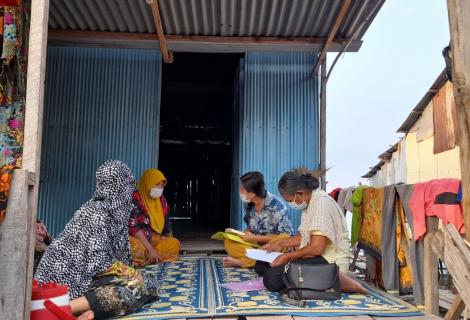 PARTICIPATORY RESEARCH ON THE VULNERABILITIES OF WOMEN WITH DISABILITIES TO CLIMATE CHANGE
Downloads
This report presented the findings of a research conducted in Kampot and Pursat to identifying barriers and vulnerabilities to climate resilience that women and girls have experienced. It gives recommendations on how to improve the inclusion of Women Living With Disabilities (WLWD) in climate resilience projects.
Cambodia is heavily reliant on climate-sensitive agricultural production but is also extremely vulnerable to seasonal flooding, drought, and rising temperatures. The poorest and most vulnerable people, including PLWD, are primarily agricultural producers. Kampot and Pursat, the locations of this research, have a very high numbers of PLWD (22,771 and 21,104 respectively), of which WLWD make up 59% and 61%, respectively. 
Key findings:  
Potential climate hazards: seasonal floods, storms, droughts, rising temperature, extreme weather, and saltwater intrusion have extremely impacted food security, livelihood and economic activities, welfare, and health of WLWD. 

Impacts of climate change on WLWD: Climate change has physically and psychologically impacted WLWD, and they are more vulnerable to climatic hazards than any other vulnerable group because most of them are physically and mentally disadvantaged and have minimal education, economic and decision-making power related to climate change adaptation.  
Food and water security: Shifting season and emerging pests and diseases for crops and livestock (as a result of extreme weather) have affected their productivities, threatening the food security of WLWD. To secure their crops/improve productivity, chemical pesticides and fertilisers were applied, increasing their production cost and exacerbating their health issues. Extreme weather and drought have reduced access to clean water, sanitation, and hygiene (WASH) facilities for WLWD. They also reported to have bought water for their consumption, travelled further away to collect water, and relied on their family because the wells were inaccessible and were designed without assistive devices to anticipate the needs of people with disabilities. WLWD needs more water than normal women since they need to clean their assistive tools and maintain body and menstrual hygiene. 
Livelihood and economic activities: Natural fish stocks in both provinces are depleting due to deforestation, loss of habitats, drought, and rising temperature, jeopardiing the household income of fisher folks whose livelihoods rely entirely on natural resources. During on-set disasters, the livelihoods of WLWD are worsened since they are struggling to earn daily income. Thus, they have to depend entirely on food relief from the local authority or other agencies. 
Equitable access to resources and support: WLWD neither received any special treatment or support for livelihood improvement nor got equitable access to take advantage of the available resources within their communities. Though WLWD is regarded as a vulnerable group, which must be prioritised during disasters and extreme weather events, there was an absence of guidelines and support intervention to handle the special needs of PLWD. The absence of accessible toilets, ramps, handrails, and poles, which are fundamental needs necessary to provide access and help navigate vision impaired and physically disabled women, presents critical barriers for them to relocate to the shelter in time of natural disaster. 
Health-related issues: On top of the health issues that everyone faced following floods (such as diarrhoea, fever, skin diseases, tension, stress), WLWD also faced additional health complications related to their previous impairment. They face barriers to accessing healthcare services and receiving timely public health or emergency information in an accessible format. In some cases, the service may disappear or are not sufficient to respond to the needs of WLWD. They also suffer from heat-related illnesses such as extreme headaches, fatigue, sleeping and eating disorder, and seizure, which take a serious toll on mental and physical health, including mood, energy, and ability to handle stress. They have faced difficulties to maintain body and menstrual hygiene during extreme heat and drought. 
Conclusions and recommendations

Women Living With Disabilities (WLWD) were more disadvantaged and more vulnerable to the impacts of climate change and disasters than non-disabled women in the same communities.  Some short-term mitigation measures have been adopted but were very limited in scope. As a result of physical, attitudinal, communication, and social barriers, the findings showed that WLWD are isolated and excluded from voicing their concerns and participating in decision-making processes related to climate change interventions in the community.  The research also showed that WLWD were, at best, indirect beneficiaries of development initiatives, with most NGOs and local authorities having little understanding of disability inclusion and limited resources.  
Further information about the research tools report, please go to : Data Collection Tools - Google Drive