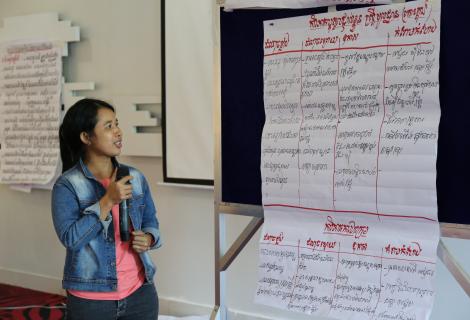 Woman Champion in Disaster Risk Reduction and Climate Change
Downloads
The Cambodia WRI found that the key factors contributing reduce in resilience include:
Economic: income is not stable and lower than the needs for a decent living, access to natural resources for livelihood and food security has been reducing over time
Infrastructure: lack of effective early warning system, lack of access to recovery and rehabilitation assistance, and lack of structural protection.
Social: lack of social security and protection mechanism for people living in poverty and most vulnerable groups, lack of knowledge on disaster risk reduction and preparedness, and decreasing role of the religious group for the emergency response which had been a strong solidarity culture of Cambodia before.
Institutions: particularly the lack of disaster management plan and implementation, limited local emergency response system, and limited meaningful participation of women in planning and budgeting process at all level. Additionally, Cambodia's Citizen Climate Budget by the NGO Forum on Cambodia in 2019 showed that in 2017 only 3% of the national expenditure was spent with climate change exclusive benefits, while only 10% of this budget focused on gender.
According to the Cambodia Women's Resilience Index (WRI), by ActionAid Cambodia in December 2019, Cambodian women's resilience index was scored at 0.56 and 0.59 for men. The Global Climate Index (2019), Cambodia was ranked at 19th/181 most affected country by climate change between 1998 and 2017. The intensity of and loss and damages by disasters (flood, drought, lightning, storm, squall, forest fire and global warming) has been increasing over time and access to power and control over resources within family, community and country are the key factors leading to weakening Cambodia resilience, especially in the context where Cambodia and the world have been increasingly impacted by disasters, climate change and non-environmental friendly development. Policies and action plans at the national level have been improving; however, inequality remains high at the local level in both the implementation process and results.
To respond to the above issues and needs, with the financial support from the Australian Department of Foreign Affairs and Trade (DFAT), United Nations Development Programme (UNDP) and United Nations Entity for Gender Equality and the Empowerment of Women (UN Women), ActionAid Cambodia in partnership with three local implementing partners – Mlup Promviheathor Center (MPC) in Koh Kong, Children and Women Development Center in Cambodia (CWDCC) in Kampot, and Rural Friend Community for Development (RFCD) in Pursat have been working closely with the National and Sub-national Committees for Disaster Management to strengthen the capacity of women in community and women in Commune Committee for Disaster Management or disaster management structure. Through the selection process participated by the local authorities and the Provincial Departments and District Offices of Women's Affairs, 46 women were selected as the Woman Champions for Disaster Risk Reduction and Climate Change (DRR/CC) in 4 provinces: Kampot (9 women), Pursat (14 women), Koh Kong (21 women) and Phnom Penh (2 women) in order to promote women's participation in decision-making, so that they could contribute to the solutions and improve woman's gendered responsiveness in DRR/ CCA in their communities.