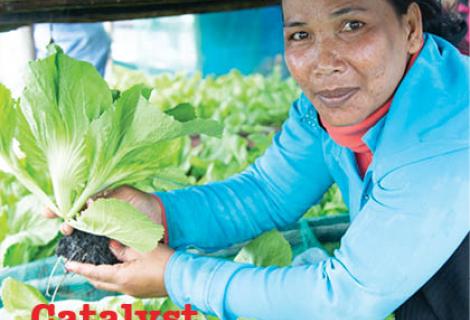 ActionAid Cambodia Strategy 2022: Catalyst for Social Justice
Downloads
Lunching: Strategy 2022
"Catalyst for Social Justice"
31 July 2018
Despite the Cambodian government's commitment to achieving the Sustainable Development Goals, Cambodia is faced with numerous systemic and socio-economic, cultural and political challenges that restrict effective progress. To effectively eliminate poverty and injustice in Cambodia requires a concerted effort amongst all key stakeholders including the government, civil society organisations, academics, media, donors and private sector. 
Today, we are pleased to launch a Strategy 2022 "Catalyse for Social Justice" aiming to contribute to the collective effort by adopting a Human Rights Based Approach (HRBA) that emphasizes partnerships, alliances and evidence-based strategies which prioritise human rights along with the livelihood aspects of people living in poverty. This strategy is the result of extensive stakeholder consultation and analysis and is predominantly informed by the lived realities of people living in poverty in Cambodia.
By 2022, we commit to achieve 6 strategic outcomes including food security and alternative income, women-led market, local lifeskills in primary and secondary schools, women leadership in building climate resilient communities and livelihoods, gender-based violence and equal access to rights and opportunities, and state accountability and just redistribution of resource. We will ensure that the exclusion of children, young people, people with disabilities and LGBT groups, and women in rural and urban areas, governance, gender equality and disaster risk reduction response remain as cross cutting themes.
We commit and aspire to strive for Cambodia to be free from poverty, inequality and injustice.
For more information, please download Strategy 2022 here